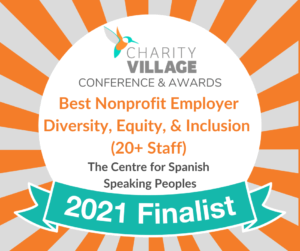 The Centre for Spanish Speaking Peoples has been named a finalist for the Best Nonprofit Employer - Diversity, Equity and Inclusion (20+ staff) Award as a part of the inaugural CharityVillage Conference and Awards!
There were over 500+ submissions and Finalists represent some of the very best across the nonprofit sector!
Get Involved
VOLUNTEER
The program is built on the strengths of dedicated individuals. Our volunteers generously contribute their time and energy to support our mission.
DONATE
Donations to CSSP will help the organization deliver purposeful services to advance the social and economic integration of our community.
Events Gallery